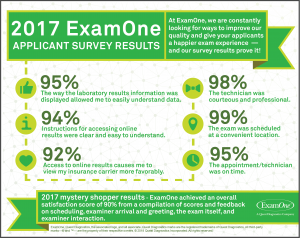 At ExamOne we are constantly looking for ways to improve the quality of our services and give your applicants a happier exam experience. One invaluable way for us to identify customer expectations, measure satisfaction levels, and uncover specific areas for improvement to the life insurance exam experience is through survey responses received from your applicants.
The results (shown in graphic) are based on feedback provided by life insurance applicants whose exams were conducted by ExamOne, whether by a paramedical technician at the applicants' homes or workplaces, or at an ExamOne paramedical service center.
Hear what these applicants had to say…
Online laboratory results
"This is a first for me—everything was accessible and easy to understand. I appreciate the clear explanation about what each result means, because it helped me better understand what each person needs to concentrate and work on in order to live longer. Thank you. Great job!!!!"
Exam experience
"The technician was excellent – friendly, explained everything, fit me into a very busy schedule, and was very efficient. Very well done!"
"I want to add that my practitioner, who conducted the exam, was delightful and professional. I really enjoyed my time with him, as he was personable, and he meticulously described the process. He was efficient and courteous. You just don't find great service like this anymore, so I applaud your company for hiring seasoned professionals who know how to effectively get the job done, yet be a joy in the process."
2017 Mystery Shopper Results
In addition to our post-exam survey for applicants, ExamOne utilizes a third-party mystery-shopper program to measure the applicant experience. In 2017, ExamOne scored 90% satisfaction on the interaction with the examiner. An overall satisfaction score of 90% was achieved from a compilation of scores and feedback on scheduling, examiner arrival and greeting, the exam itself, and examiner interaction.
These quality measures are used to help develop and enhance examiner training and workflows, allowing us to continually improve the applicant experience.
If you would like more information about these results, contact your Strategic Account Representative.