We know it's important to have a healthy pipeline, not only so you continue to get paid, but also so you can serve your clients' needs. Our team shares six easy tips on how to maximize your life insurance pipeline.
Let's talk about life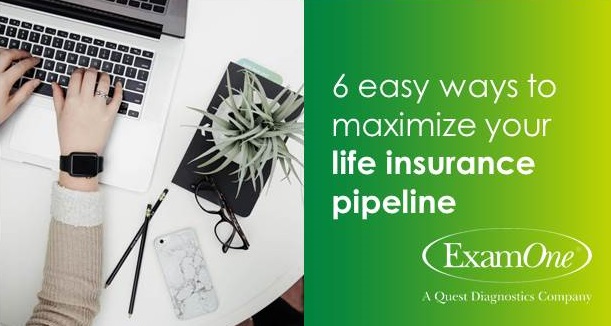 The first step to a healthy pipeline is generating as many new applications as possible. Whether you're new to the business or have been writing for many years, you have probably worked on your pitch. During this unprecedented time, you are finding new ways of talking about life insurance. Everyone has people who depend on them, so look for interesting ways to communicate their financial needs and the value of holding a life insurance policy for protection. Here are a few tips on how to communicate with your clients during a crisis.
Take time to explain the process
As your partners in the paramedical process, we've noticed applicants tend to follow through more quickly if they are well prepared. Be sure to take time to go over which steps will be required of them and how they can help ensure the best results. You can find a wealth of resources on our applicant website, MyExamOne.com.
Don't wait for the call
Ever received a call from us saying your applicant has not responded? If they are required to complete a Personal Health History Interview, be sure to share the call-in number when their application is created. If an exam is required, use our real-time scheduling tool (ScheduleNow™) whenever possible to get your client scheduled at a time and place that is comfortable for them. In an effort to give applicants more appointment options, we have extended the scheduling window and examiner availability from 10 days to 45 days.
Leverage a national network
When it comes time to complete your client's exam, we offer many choices through our extensive national network. In today's world, applicant safety and convenience are important factors to consider when it comes to the location of life insurance exams. As a Quest Diagnostics company, ExamOne's national collection network includes Quest exam centers to give your applicants even more options. With thousands of exam centers across the country, we make it easy for applicants to complete their exams at a time and location that fits their schedules. In light of the COVID-19 emergency, we have taken additional measures to bolster preparedness at our Quest exam centers. Read more
Keep track of your cases
You can use our online tracking tools to make sure your cases are progressing and know when the information has been delivered to your underwriter. Case status can be accessed through our online portal, automatic email status updates, and through carrier access points. Did you know that you can connect with our Customer Service team and receive assistance on your orders by using the "Contact Us" button on the portal?
Reach out after the exam
A great way to build on your efforts is to ask for referrals—always! Reach out to your client after their exam to ask for feedback and provide information on how they can access a copy of their laboratory test results. If they are happy with their experience, that conversation may be a great time to ask them about anyone else in their life who may also need to update their coverage.
As you manage your pipeline, our national network of ExamOne representatives and local branch offices are here to help. You can schedule a review with your local representative to help identify any areas where the paramed process could be smoother. We want to help your business grow, even during this challenging time.