Our Brokerage Sales team is committed to growing your business and the applicant's experience. We look forward to working with you and your organization this year. Feel free to contact our dedicated team for more information.
Melanie Carter | Vice President, Sales
Melanie has been an active professional in the insurance industry, servicing the paramedical needs for brokerage and home office clients for over 20 years. Since ExamOne's acquisition of Superior Mobile Medics in 2015, Melanie oversees the Distribution, IMO/Brokerage and Direct Market sales channels. Melanie has held a variety of positions in her tenure, including COO and Sr. VP of Sales and Marketing. Since transitioning into her current role, Melanie works closely with the executive team on current company objectives and strategic planning as well as leading the sales team to achieve their goals. In her free time, she enjoys her grandchildren, traveling and outdoors adventures with her family.
Brian Barnes | Strategic Account Executive
Brian has over fifteen years' experience in the life insurance space, working for premier data collection and software vendors. This involvement combined with almost a decade of producer experience as a financial advisor, specializing in wealth management, estate and retirement planning brings unique insights to his clients. In his free time, Brian enjoys running, reading and catching up on his favorite series on AMC.
Andrew Sutton | Strategic Account Executive
Since starting with ExamOne nine years ago as a Producer sales representative, Andrew has held various sales roles. His experience in working with multiple channels gives him valuable insight into client solutions that will improve their business and the applicant's experience. Now Andrew works directly with brokerages across the country helping them increase their placement ratios. When not working, he can be found golfing or kayak fishing in La Jolla, CA.
Morgan Van Lare | Strategic Account Executive
Morgan started with ExamOne in 2012 as a Producer sales representative in the Rochester, NY office before she began supporting our large national accounts. Morgan has had the chance to work closely with many carriers, and technology firms, as well as hundreds of brokerage clients and direct marketers in the independent distribution channel.  Morgan graduated from Canisius College with a Bachelor of Arts in Psychology. In her free time, she enjoys animal rescue fostering, downhill skiing & practicing yoga.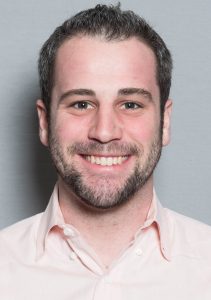 Kevin Mahr | Strategic Account Executive
Since starting with ExamOne in 2013 Kevin has held various sales roles at our home office in Kansas City.  Prior to joining the Brokerage Sales Team, Kevin has managed the ExamOne Inside Producer Sales Team. His experience working in multiple channels, understanding the needs of producer agents nationwide, and strong sales and customer service background help to provide a concierge level of service for brokerages across the country.  Kevin received a Bachelor of Science degree in Journalism, emphasis in Strategic Communication, and a Minor in Business from the University of Kansas.  When not working, he can be found watching the Jayhawks, Chiefs and Royals or traveling.
Lauren Hung | Strategic Account Representative
Lauren has been with ExamOne for six years marketing to producers in Hawaii. Recently she joined the brokerage sales team in addition to her existing responsibilities. Her strong business relationship skills has helped her transition successfully to new role. She enjoys helping clients with our solutions. Taking care of her clients and a toddler keep her busy.
Your dedicated Account Representative
You'll know their name by heart. At ExamOne Superior Solutions, you will have access to a trusted and dedicated account representative who supports all of your business throughout the country and will work closely with you on any special cases. You are assured a consistent experience for your clients, giving you peace of mind that your business will be processed professionally and accurately.